Careers at A1 Sewer & Drain
We take care of our people. Enhancing benefits, optimizing work hours, improving pay-for-performance structures and creating career paths tailored to deserving employees' aspirations demonstrates our deep care for them in their quest to deliver outstanding service.
View Open Positions
Careers at A1 Sewer & Drain
By furthering both our employees' careers and well-being, we create a culture where our employees enjoy exceeding our customers' expectations and take pride in doing a job that is well done.
Life at A1 Sewer & Drain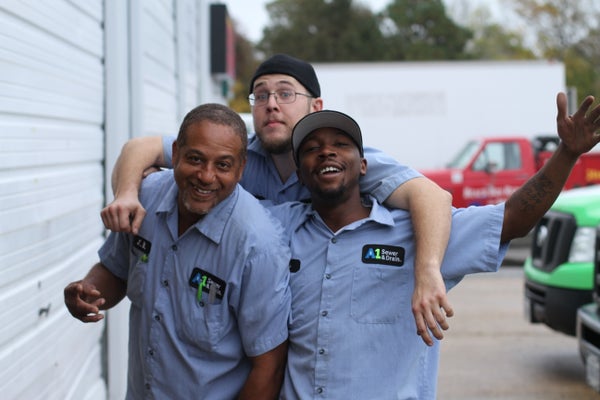 Culture and Perks
At A1 Sewer & Drain our core values are more than just words, they're a way of life. We know that companies with a strong culture and a higher purpose perform better in the long run. As we continue to grow, we strive to ensure that our culture remains alive and well.
Benefits
Medical
Dental
Life Insurance for Employee, Spouse, Children
Short Term Disability
Long Term Disability
Legal Insurance
Accidental Death and Dismemberment Insurance
Hospitalization Insurance
Critical Illness Insurance
Accident Insurance
Employee Assistance
Financial & Retirement
401K Retirement Plan
Performance Bonus
Vacation and Time Off
PTO
Paid Holidays
Bereavement Leave
Professional Support
Professional Development
Job Training
Join Us as We Charge Ahead
About A1, A Groundworks Company
A1 Sewer and Drain, founded in 1987, is a subsidiary of Groundworks, a family of companies that specialize in residential and commercial plumbing. Groundworks is the nation's largest foundation services company with corporate offices in Virginia Beach, VA. Groundworks is comprised of Complete Basement Systems®, Florida Foundation Authority™, Foundation Recovery Systems™, Indiana Foundation Service™, Innovative Basement Authority™, JES Foundation Repair™, Mount Valley Foundation Services®, Ohio Basement Authority™, Ohio Basement Systems™, Tar Heel Basement Systems®, A1 Sewer & Drain™, Independence Materials Group™, and Bizwiz Software™. Since 1986, the combined companies have helped over 250,000 homeowners protect and repair their most valuable asset, their home. Groundworks operates over twenty offices that serve Arkansas, Colorado, Florida, Georgia, Indiana, Illinois, Iowa, Kansas, Maryland, Minneapolis, Missouri, Montana, Nebraska, North Carolina, North Dakota, Ohio, South Carolina, Virginia, West Virginia, and Wisconsin. The company has been named numerous times to the Inc. 5000 Fastest Growing Companies and Best Places to Work. For more information about Groundworks, please visit www.groundworks.com.
Publish Date:
Last Modified Date:
Our Locations
Ashland
309 Quarles Rd Suite B
Ashland, VA 23005
Hampton Roads
516 S. Military Hwy
Virginia Beach, VA 23464