4 Signs Your Pipes Are Frozen
One moment, you're comfortably enjoying tea in your living room, and the next, you're staring at unexpected flooding, caused by a burst pipe.
While frozen pipes are rare in Virginia, it does happen, and it's more than just alarming; it's costly. What if we told you there's a way to spot and tackle these issues early?
A1 Sewer & Drain is equipped with proactive solutions and the tools to get your pipes back in working order.
By the end of this article, you'll be one step ahead, effectively sidestepping the dreaded water damage bill.
Why Worry About Frozen Pipes?
Frozen pipes aren't just an inconvenience. They're ticking time bombs. When frozen pipes burst, it's not just a trickle—it can be a catastrophic flood.
The longer you put off fixing issues the more costs increase.
Thankfully, A1 Sewer & Drain is here to be your steadfast guardian against such unforeseen household nightmares.
Signs Your Pipes Need Help
1. Declining Water Pressure
This sign often begins subtly. A once-powerful faucet may only let out a slow stream. Such a shift indicates potential pipe freezing. While DIY solutions might temporarily alleviate the issue, relying on experts ensures a thorough resolution.
2. Unwanted Odors
When pipes freeze, the backward pressure can lead to odd smells. If your kitchen or bathroom suddenly starts giving off a peculiar scent, it's likely due to this underlying problem. While air fresheners mask the smell, they don't solve the root issue. Consultation with professionals is a must.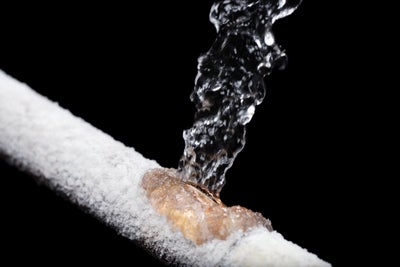 3. Frost Accumulation
A visible sign of trouble—frost on your pipes indicates a freezing problem. While insulation might be a common solution recommended by many, ensuring a proper, expert installation is pivotal.
4. The Horror of Water Damage
Burst pipes spell disaster. You'll notice wet drywall, structural damage, and mold. The consequences are extensive.
What Do I Do First if I Have Frozen Pipes?
Frozen pipes need timely attention.
A1 Sewer & Drain recommends shutting off the water immediately upon spotting a leak.
While the immediate reaction can minimize damage, the long-term solution lies in professional intervention.
Be Winter-Ready: How to Prevent Frozen Pipes
Why wait for a crisis when you can prevent it? As winter approaches, a few strategic steps can save you a lot of hassle and expense:
Let your faucets drip: A continuous drip keeps pressure at bay.
Warmth is key: A steady 55°F ensures your pipes remain unfrozen.
Open up: Let warm air access your pipes by opening internal doors like kitchen and bathroom cabinets.
Seal the deal: Ensure there are no gaps or cracks near your pipes.
Insulation: Essential for pipes in basements, attics, and crawl spaces.
Leak detection systems: The future of home protection against water damage.
Schedule an Inspection with A1 Sewer & Drain Today!
Why gamble with your home's plumbing?
When it comes to safeguarding your home from the nightmare of burst pipes, there's one name to rely on: A1 Sewer & Drain.
With almost four decades of hands-on experience in our community, we've become the trusted experts in preventing and dealing with burst pipes.
Whether you want to proactively prevent potential disasters or find yourself facing the aftermath of burst pipes, A1's seasoned professionals have got you covered.
What sets us apart is our unwavering commitment to quality and our proven track record, boasting thousands of online reviews from satisfied homeowners.
Don't let the fear of burst pipes keep you up at night—reach out to A1 and experience the calm that comes with relying on the best in the business.
Fast and Reliable Plumbing Solutions – Book Your Service Today!
Publish Date:
Last Modified Date:
Our Locations
Ashland
309 Quarles Rd Suite B
Ashland, VA 23005
Hampton Roads
516 S. Military Hwy
Virginia Beach, VA 23464